Mn Types
Manganese ores in supra-Kalahari Africa occur dominantly in strata of Paleoproterozoic age (81% of reserves). Most of these are highly weathered. See for example Mokta, below.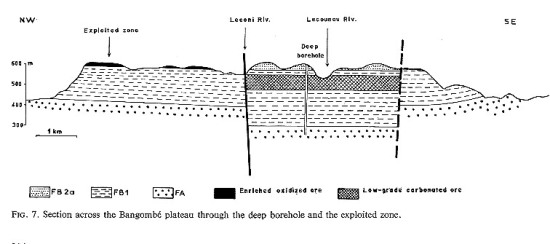 Weathering at Mokta has created a zone of high-grade oxide from thicker, lower grade carbonate ore (Weber, 1970).
Ar/Ar dates from Tambao (Henocque et al., 1998) suggest an Early Eocene age for this weathering.
Mesoproterozoic and Neoproterozoic together make up only 3% of Northern African deposits, with Phanerozoic deposits making up the remaining 15 %. Remarkable among the last group are the large karst-hosted deposits of Morocco (BouArfa, Tiharitine and Imini).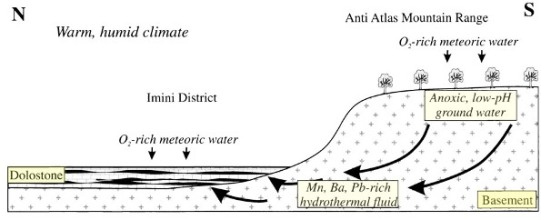 Groundwater model for genesis of the Imini deposit (Gutzmer et al. 2006)