Tambao
If you have additions or corrections to the data for this deposit please contact webmaster
Location - Burkina Faso
Age (of protore) - Birimian: 2100-2000
Original size -13.2 million tonnes of Mn (7 in oxide, 6.2 in carbonate)
References
Varentsov, I.M., 1996, Manganese Ores of Supergene Zone: Geochemistry of Formation: Dordrecht, Kluwer Academic Publishers, 342 pp.
Beauvais, A., G. Ruffet, O. Hénocque, and F. Colin (2008), Chemical and physical erosion rhythms of the West African Cenozoic morphogenesis: The 39Ar-40Ar dating of supergene K-Mn oxides: Journal Geophysical Research, v. 113,p. F04007, doi:10.1029/2008JF000996.
Blazy, P., and Houot, R., 1969, Treatment of the manganese ore from Tambao, Upper Volta: Unpublished Report, Ecole nationale supérieure de géologie appliqué et de prospection minière - Nancy
Mining Magazine, June, 1981, Tambao manganese deposit, Upper Volta, p. 437.
major elements - trace elements - rare-earth elements - REE normalized - isotopes
Major Elements, oxide percent

Sample number and type

%

%

%

%

%

%

%

%

%

%

%

MnOtotal

Fe2O3t

SiO2

Al203

CaO

MgO

K2O

Na2O

TiO2

P205

LOI

Average

Mn carbonate

31.2
3.8
30
17.81
1.63
0.54
0.07
0.38
nd
nd
8.9
supergene ore
39.8
6.92
15.2
15.87
0.05
0.06
0.12
0.32
nd
0.75
10.9
     
high grade ore bed 1
53.35

4.63

0.344
high grade ore bed 2
71.34

1.41

0.344
high grade ore bed 3
74.18

1.26

2.11
2.38
0.229
battery-active sample 1
77.0
0.87
1.1
0.52

0.9

0.37

0.229

2.63

battery-active sample 2
74.3
1.66
0.88
1.11

1.5

0.13

0.321

3.34

battery-active sample 3
75.7
0.8
0.51
1.07

1.77

<0.1

0.321

3.03
Trace elements, ppm

ppm

ppm

ppm

ppm

ppm

ppm

ppm

ppm

ppm

ppm

ppm

ppm

ppm

ppm

ppm

ppm

ppm

ppm

ppm

As

Ba

Cd

Co

Cr

Cu

Mo

Nb

Ni

Pb

Rb

Sc

Sr

Th

U

V

Y

Zn

Zr

Battery-active samples

nr

1
0.047
0.01
0.111
<0.001
0.021
2
0.065
0.013
0.096
<0.001
0.025
3
0.077
0.011
0.037
<0.001
0.028
blank or nr = not reported; bd = below detection
Rare-earth elements, ppm

Sample

La

Ce

Pr

Nd

Sm

Eu

Gd

Tb

Dy 

Ho 

Er 

Tm 

Yb

Lu
Rare-earth elements,

normalized to chondritic values of Taylor & McLennan (1992)

Sample

LaN

CeN

PrN

NdN

SmN

EuN

GdN

TbN

YbN

Ce/Ce*

Eu/Eu*

LaN/YbN
Isotopes

Sample

TC %
TOC %
Ccarb %
δ13C pdb
δ18O pdb
δ18O smow
Stotal %
δ34S sulfide
87Sr/86Sr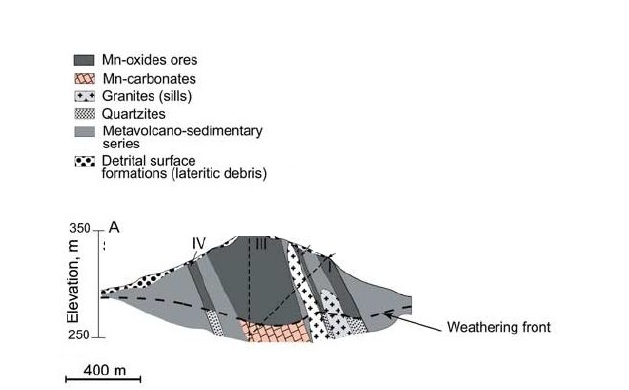 Cross-section throgh the orebody showing relative distribution of oxidized and intact ore (from Bauvais et al 2008)
SEM image of cryptomelane (from Bauvais et al 2008)