The Falls of the Willamette River at Oregon City
Willamette Falls -- second only to Niagra in the U.S. in water volume at 30,000 cubic feet/sec -- occurs where the Willamette River crosses the uppermost flood basalt sheet of the Sentinel Bluffs Member of the Grande Ronde Basalt. These flood basalts were extruded over a vast area of the Pacific Northwest during the mid-Miocene about 15 million years ago, and are the rocks making up Columbia Gorge. Note the escarpment associated with the Bolton Fault, which may have been the starting point for the falls.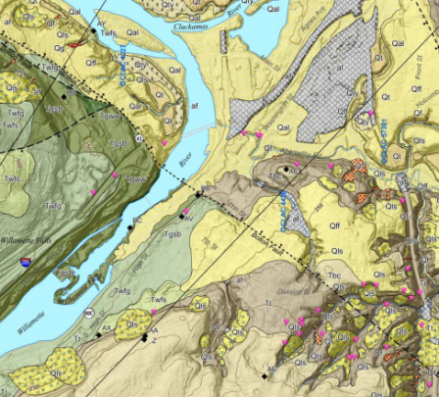 Map of the geology around Oregon City and the falls. Detail from the 71/2 minute geologic quadrangle published by the Oregon Department of Geology and Mineral Resources.
Larger image [png format]
Legend [png format]
Full map [pdf format - 2.77 mb]
[Source: US Army Corps of Engineers]
The falls also have the distinction of being the birthplace of hydropower in the Northwest. In 1889 a power plant was completed with a 14-mile direct current transmission line to Portland, the first long-distance power transmission in the U.S. The system was soon converted to alternating current and may have been the world's first long-distance AC transmission system.
Links:
Willamette Falls Heritage Foundation
Oregon Department of Geology and Mineral Industries (DOGAMI)
Clackamas County Historical Society
USGS page on Bolton Fault [pdf version with references]
Vintage photographs of Willamette Falls