Lead content of brass used in plumbing fixtures and devices
Water distribution systems and household plumbing contain numerous brass components. Most such components in service are leaded brass and hence comprise a potential source of Pb in compliance testing under the Lead and Copper Rule. For households, the two components with the greatest potential to affect Pb content of tap samples are faucets and meters.
Typical brasses used in these applications are alloys of Cu, Zn, and Pb with small amounts of other metals such as Sn (see List of Additives). The Pb content is typically 2 to 8 %, and these can be marketed as "lead free".  In true no-lead brasses, Bi and Sb are used in place of Pb (http://www.envirobrass.com). The addition of Pb or Bi is made to improve the machinability of the brass.
Pb or Bi in brass are present not in solution in the alloy but as discrete blebs or "islands" of pure metal within the alloy. Imaging using Scanning Electron Microscopy reveals this structure (Fig. 1). The image was taken in back-scatter mode, in which the brightness is proportional to the atomic number of the element. The large contrast in mass between Pb and the other elements produces the bright spots. Note also the porous zone at the wetted edge of the brass revealed by the dark areas.
Figure 1. Structure of brass revealed in scanning electron imaging, using back-scattered electrons. Polished section cut through a leaded brass faucet.
Brass is a highly versatile metal and is manufactured with a wide range of compositions. Table 1 gives compositional data from some brasses used in plumbing components in the US. Note that Pb varies from < 0.25 to about 7 %. The high Sn varieties are "admiralty brasses" and are generally used in marine applications. In the table, the values given are the midpoints of the reported ranges. For analyses totaling greater than 100.1 %, the midpoint Cu and Zn contents were normalized to give 100 % totals.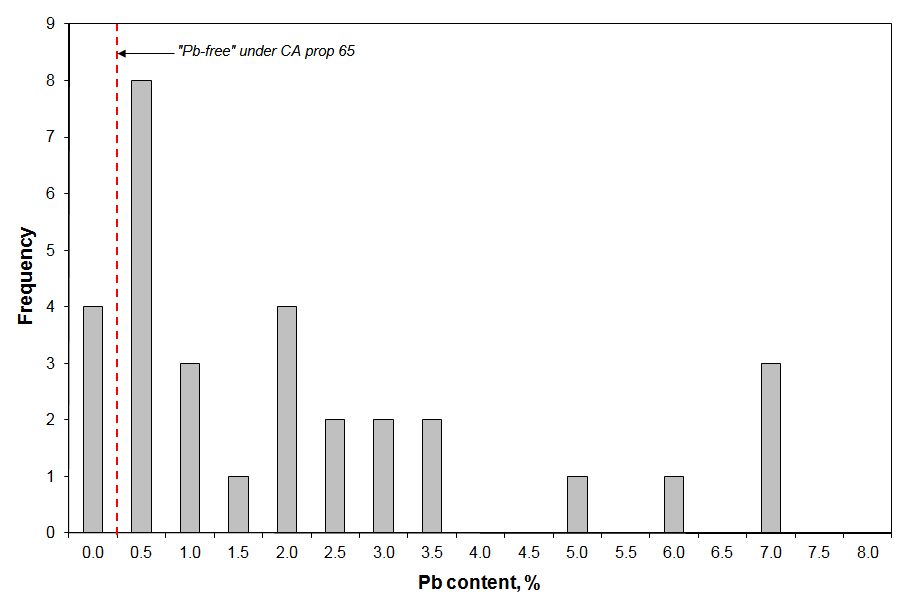 Figure 2. Range of Pb contents found in commercial brasses (see Table 1).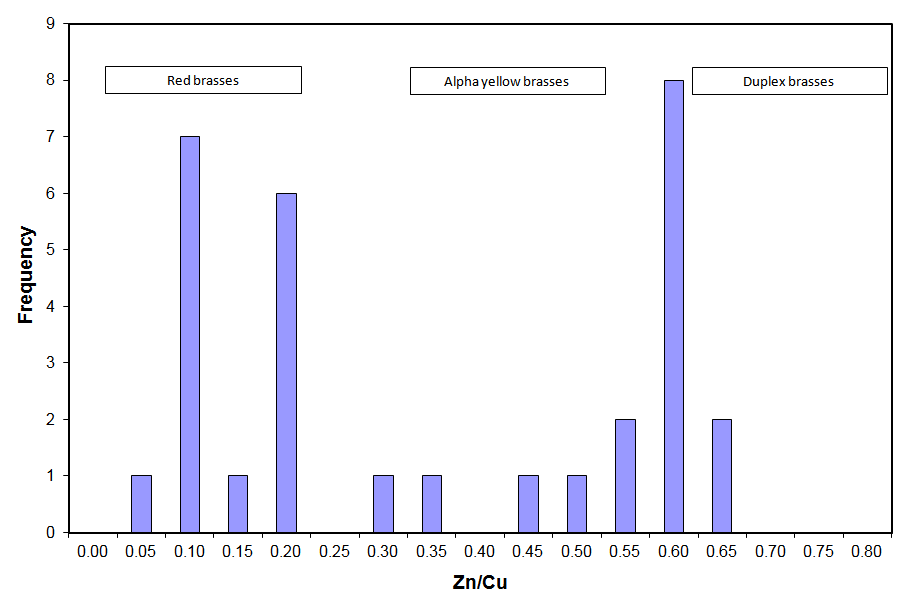 Figure 2. Range of Zn contents found in commercial brasses (see Table 1).
Selected References to Brass Corrosion
Badawy, W.A. & Al-Kharafi, F.M., 1998. Corrosion and passivation behaviours of a-brass in oxygen-free and –saturated solutions of different pH. Corrosion Prevention & Control, 45-2: 57-68.
Burzynska, L., 2001. Comparison of the spontaneous and anodic processes during dissolution of brass. Corrosion Science, 43: 1053-1069.
Cardew, P.T., 2006. Development of a convective diffusion model for lead pipe rigs operating in laminar flow. Water Research, 40:  2190-2200.
Dudi, A., Schock, M., Murray, N., & Edwards, M., 1997, Lead leaching from inline brass devices: a critical evaluation of the existing standard. Jour. AWWA, 97-8: 66-78.
Gardels, M. C., & Sorg, T.J., 1989. A Laboratory Study of the Leaching of Lead from Water Faucets. Jour. AWWA, 81-7: 101-113.
Kimbrough, D.E., 2001. Brass Corrosion and the LCR Monitoring Program. Jour. AWWA, 93-2: 81-91.
Kimbrough, D.E., 2007. Brass Corrosion as a source of lead and copper in traditional and all-plastic distribution systems. Jour. AWWA, 99-8: 70-76.
Korshin, G.V., Ferguson, J.F., and Lancaster, A.N., 2000. Influence of natural organic matter on the corrosion of leaded brass in potable water. Corrosion Science, 42: 53-66.
Lytle, D.A. & Shock, M.R., 2000. Impact of stagnation time on metal dissolution from plumbing materials in drinking water. Jour. Water Supply: Research and Technology – Aqua,  49-5:  243-257.
Maas, R.P. & Patch, S.C.,  1999. Lead Leaching From In-Service Residential Water Meters: A Laboratory Study. Source (CA Section of AWWA), 100-3: 27-28.
Maas, R.P., Patch, S.C., Morgan, D.M.  & Kawaguchi, H., 1997. Lead Leaching From Brass Water Meters Under Pressurized Flow Conditions. Proceedings of the American Water Works Association 1997 Annual Conference, 589-602.
Maynard, J. Barry, David Mast, and Pierre Kwan. 2008, "Kinectics of Lead Release from Brass Water Meters and Faucets." WQTC Conference Proceedings. Cincinnati, OH: American Water Works Association.
Marshakov, I.K., 2005. Corrosion resistance and dezincing of brasses. Protection of Metals,  41: 2305-210.
Merkel, T.H., Gross, H-J., Werner, W., Dahlke, T., Reicherter, S., Beuchle, G., & Eberle, S.H., 2002. Copper corrosion by-product release in long-term stagnation experiments. Water Research, 36: 1547-1555.
Oliphant, R.J. , & Schock, M.R.,  1996. Copper alloys and solder. Chapter 6 in Internal Corrosion of Water Distribution Systems. American Water Works Association Research Foundation/ DVGW Forschungsstelle, Denver CO, p. 269-312.
Paige, J.I. & Covino, B.D., Jr., 1992. Leachability of Lead from Selected Copper-Base Alloys. Corrosion, 48-12: 1040-1046.
Rehan, H.H., Al-Moubarak, N.A., & Al-Rafai, H.A., 2000. A model for prolonged dezincification of α-brasses in 3 % sodium chloride buffer solutions at different pH values. Materials and Corrosion,  52: 677-684.
Samuels, E. R. & Meranger, J.C., 1984. Preliminary Studies on the Leaching of Some Trace Metals from Kitchen Faucets. Water Research, 18-1: 75.
Sastri, V.S., 2005. Dezincification studies of some copper based alloys. Corrosion Engineering, Science & Technology, 40-2: 171-176.
Schock, M.R. & Neff, C.H., 1988. Trace Metal Contamination from Brass Fittings. Jour AWWA, 80-11: 47.
Triantafyllidou, S., and Edwards, Marc, 2007. Critical evaluation of the NSF 61 Section 9 test water for lead. Jour AWWA, 99-9: 133-143.
Valcarce, M.B., de Sánchez, S.R., & Vázquez, M., 2005, Localized attack of copper and brass in tap water : the effect of Pseudomonas. Corrosion Science, 47: 795-809.
Table 1a. Average composition of some  commercial brasses used in plumbing- major constituents

Cu

Sb

Bi

Pb

Pb range

Sn

Zn

Zn/Cu

C23000
84.0
0.05
15.0
0.18
C26000
69.9
0.07
30.0
0.43

C32000

84.9

1.8

1.5-2.2

13.2

0.16

C33000

66.0

0.5

0.25-0.7

33.5

0.51

C33200

66.0

2.0

1.5-2.5

32.0

0.48

C34000

63.5

1.0

0.8-1.5

35.5

0.56

C34500

63.5

2.0

1.5-2.5

34.5

0.54

C35000

61.5

1.1

0.8-2.0

37.4

0.61

C35300

61.5

2.0

1.5-2.5

36.5

0.59

C35330

61.7

2.5

1.5-3.5

35.7

0.58

C35350

61.7

3.2

2.0-4.5

0.15

34.5

0.56

C36000

61.4

3.1

2.5-3.7

35.4

0.58

C83600

84.3

0.13

5.0

4.0-6.0

5.0

5.0

0.06

C83800

83.0

0.13

6.0

5.0-7.0

3.8

6.5

0.08

C84200

79.0

0.13

2.5

2.0-3.0

5.0

12.8

0.16

C84400

80.2

0.13

7.0

6.0-8.0

3.0

9.0

0.11

C84500

77.5

0.13

6.8

6.0-7.5

3.0

11.9

0.15

C84800

75.1

0.13

6.8

5.5-7.0

2.5

14.8

0.20

C85200

72.0

0.10

3.0

1.5-3.8

1.4

23.5

0.33

C85400

67.0

3.0

1.5-3.8

1.0

29.0

0.43

C85700

60.9

1.0

0.8-1.5

1.0

35.9

0.59

C86400

57.6

1.0

0.5-1.5

1.0

37.1

0.64

C87500

81.8

0.0

0-0.5

14.0

0.17

C87800

81.6

0.03

0.0

0-0.9

0.1

13.9

0.17

C87850

75.8

0.05

0.0

0-0.1

0.2

20.8

0.28

C89510

87.0

0.13

1.0

0.1

0-0.25

5.0

5.0

0.06

C89520

86.0

0.13

1.9

0.1

0-0.25

5.5

5.0

0.06

C89530

85.0

0.10

1.5

0.1

0-0.25

4.7

7.9

0.09

C89535

86.5

0.10

1.4

0.1

0-0.25

3.0

7.0

0.08

C89540

61.0

0.9

0.1

0-0.25

0.6

35.0

0.57

C89550

61.0

0.03

0.9

0.1

0-0.25

0.6

35.0

0.57

C89836

88.2

0.13

2.5

0.1

0-0.25

5.5

3.0

0.03

C89844

84.2

0.13

3.0

0.0

0-0.20

4.0

8.0

0.09

Avg regular brass

70.8

0

2.67

2.09

24.5

0.37

Avg envirobrass

79.9

1.6

0.11

3.61

13.2

0.20
Table 1a. Average composition of some  commercial brasses used in plumbing- minor constituents

Al

As

Fe

Mn

Ni

P

Se

Si

S

C23000

0.05

C26000

0.05

C32000

       0.05

0.13

C33000

       0.04

C33200

       0.04

C34000

       0.08

C34500

       0.08

C35000

       0.08

C35300

       0.08

C35330

0.13

C35350

       0.20

0.17

0.12

C36000

       0.18

C83600

0.003

       0.15

0.50

0.03

0.003

0.040

C83800

0.003

       0.15

0.50

0.02

0.003

0.040

C84200

0.003

       0.20

0.40

0.03

0.003

0.040

C84400

0.003

       0.20

0.50

0.01

0.003

0.040

C84500

0.003

       0.20

0.50

0.01

0.003

0.040

C84800

0.003

       0.20

0.50

0.01

0.003

0.040

C85200

0.003

0.01

0.025

C85400

0.175

       0.35

0.50

0.025

C85700

0.300

       0.35

0.50

C86400

1.000

       1.20

0.8

0.50

C87500

0.250

4.0

C87800

0.075

0.03

       0.08

0.075

0.10

0.01

4.0

0.025

C87850

       0.05

0.05

0.12

3.0

C89510

0.003

       0.10

0.05

0.03

0.55

0.003

0.040

C89520

0.003

       0.10

0.05

0.03

0.95

0.003

0.040

C89530

0.005

       0.15

0.50

0.03

0.20

0.005

C89535

0.005

       0.15

0.65

0.20

0.005

C89540

0.350

       0.25

0.50

0.05

C89550

0.400

       0.25

0.50

0.05

0.05

0.125

0.025

C89836

0.003

       0.18

0.45

0.03

0.003

0.040

C89844

0.003

       0.15

0.50

0.03

0.003

0.040
Table 1b. Common names and typical uses

Name

Uses

C22000

Red brass
fittings, pumps

C23000

Cartridge brass
faucet tubes

C32000

Leaded red brass

fittings

C33000

Low leaded brass (Tube)

plumbing accessories

C33200

High leaded brass (Tube)

plumbing accessories

C34000

Medium leaded brass

fittings

C34500

valve stems, fittings

C35000

Medium leaded brass

meter parts, sink strainers

C35300

High leaded brass

fittings, faucet stems, faucet seats

C35330

DZR brass

fittings

C35350

Leaded brass

shafts for valves

C36000

Free-cutting brass

faucet stems, faucet seats, fittings

C83600

Ounce metal

faucets, fittings

C83800

Hydraulic bronze

plumbing fixtures

C84200

tees, couplings, unions

C84400

Valve metal

fittings

C84500

faucets, fittings

C84800

Plumbing goods brass

faucets, fittings

C85200

Leaded yellow brass

fittings

C85400

No. 1 yellow brass

plumbing parts

C85700

Leaded yellow brass

fittings, flanges

C86400

manganese bronze

fixtures

C87500

copper silicon alloy

fixtures

C87800

cast silicon bronze

plumbing parts

C87850

copper silicon alloy

faucets, fittings, water meter cases

C89510

SeBiLOY I (EnviroBrass I)

lead-free plumbing parts

C89520

SeBiLOY II (EnviroBrass II)

lead-free plumbing parts

C89530

CuBiSe Alloy

lead-free plumbing parts

C89535

CuBi Alloy

lead-free plumbing parts

C89540

plumbing castings

C89550

SeBiLOY III (EnviroBrass III)

plumbing castings

C89836

plumbing castings

C89844

valves, fittings
Source: Copper Development Authority