Manuel's River
Location - Newfoundland, Canada Lat 47.5220136 Long 52.9498418
Age (of portore) - 517 Ma
Original size - <0.1 million tonnes of Mn
References
Geological Survey of Newfoundland information page (accessed 2016)
Liu, T-B. , 1990, C-S relationships in shales hosting manganese ores from Mexico, China, and Newfoundland; implications for depositional environment and mineralization: Ore Geology Reviews, v. 5, p. 325-340.
Liu, T-B. , 1988, C-S-Fe Correlation of Shales Hosting Sedimentary Manganese Deposits. Unpublished PhD Dissertation, University of Cincinnati, Cincinnati, OH.
Mohr, P.A., 1956, A geochemical study of the Lower Cambrian manganese ore of the Harlech Dome, North Wales, in Gonzalez-Reyna, J., ed., Symposium Sobre Yacimientos de Manganeso: Mexico City, XX Congreso Geological International, v. 5, p. 273-290.
Scott, J.W., 1952, The Cambrian manganese deposits of southeastern Newfoundland: Geological Survey of Canada, Open File Report 122.
Dale, N.C., 1915, The Cambrian manganese deposits of Conception and Trinity Bays, Newfoundland: Proceedings of the American Philosophical Society, v. 54, p. 371-456.
major elements - trace elements - C-S-Fe -isotopes
Major Elements, oxide percent

%

%

%

%

%

%

%

%

%

%

%

MnO

Fe2O3t

SiO2

Al203

CaO

MgO

K2O

Na2O

TiO2

P205

LOI

Average

Mn carb

18.92

7.29

31.45

10.92

7.52

2.31

0.34

1.44

0.41

1.14

20.56

MF343
unaltered ore

13.01

6.49

39.67

10.71

6.69

1.65

0.42

2.13

0.44

0.58

17.54

MF346
unaltered ore
17.13
8.40
27.93
10.47
8.52
1.23
0.50
0.95
0.26
0.34
22.26
MF347
unaltered ore
18.53
6.61
34.69
13.28
3.20
2.77
0.10
1.23
0.54
0.41
18.32
phosphatic ore

35.53

6.89

24.70

6.11

11.3

2.3

-

-

-

31.04

phosphatic ore

26.05

6.11

27.61

6.96

9.94

3.49

-

-

4.71

15.3

phosphatic ore

19.42

10.01

18.24

14.52

13.74

4.94

-

-

1.71

26.08
Trace elements, ppm

ppm

ppm

ppm

ppm

ppm

ppm

ppm

ppm

ppm

ppm

ppm

ppm

ppm

ppm

ppm

ppm

Ba

Co

Cr

Cu

Mo

Nb

Ni

Pb

Rb

Sr

Th

U

V

Y

Zn

Zr

avg
8004
16
44
4
15
18
33
219
2.5
7
29
45
52
MF343

7874

18

48

bd

bd

4

18

20

34

291

3

bd

15

35

59

70

MF346

13518

14

26

bd

bd

3

2.5

27

20

306

2

bd

2.5

29

30

43

MF347

2621

17

57

bd

bd

5

25

6

43

61

3

bd

2.5

22

47

43
blank or nr = not reported; bd = below detection
C-S-Fe

Sample #
Formation
lithology
age

TOC

Sulfide S

DOP
Total 
Fe2+/total
Reactive Fe
Reactive Fe
MF356
Elliott Cove Fmn
black shale

l Camb

0.50
1.84
0.44
3.65
0.58
MF355
Elliott Cove Fmn
gray shale

l Camb

0.33
0.23
0.08
2.69
0.77
MF354
Manuels River Fmn
black shale

m Camb

2.19
1.41
0.21
5.87
0.68
MF349
Manuels River Fmn
black shale

m Camb

0.54
0.10
0.02
3.93
0.48
MF350
Chamberlain's Brook Fmn
black shale

m Camb

1.11
0.14
0.03
4.49
0.33
MF351
Chamberlain's Brook Fmn
Siderite

m Camb

0.76
0.10
0.02
5.14
0.47
MF348
Chamberlain's Brook Fmn
Siderite

m Camb

0.80
0.05
0.01
6.63
0.37
MF353
Chamberlain's Brook Fmn
Siderite

m Camb

MF352
Chamberlain's Brook Fmn
gray shale

m Camb

0.37
0.08
0.01
5.46
0.11
MF344
Chamberlain's Brook Fmn
gray shale

m Camb

0.55
0.04
0.01
5.97
0.83
MF347a
Chamberlain's Brook Fmn
gray shale

m Camb

0.33
0.11
0.01
6.67
0.48
MF347
ore bed
ore

m Camb

0.34
0.05
0.01
3.25
0.23
MF346
ore bed
ore

m Camb

0.25
0.02
0.01
2.51
0.11
MF343
ore bed
ore
m Camb
0.21
0.04
0.01
3.60
0.44
MF343
Brigus Fmn
gray shale

e Camb

0.33
0.03
0.02
1.65
0.06
MF342
Brigus Fmn
gray shale

e Camb

0.49
0.05
0.01
6.24
0.92
MF34l
Brigus Fmn
gray shale

e Camb

0.32
0.08
0.02
3.75
0.36
MF339
Brigus Fmn
sandstone

e Camb

0.36
0.06
0.01
3.83
0.40
Isotopes

Sample

%S ore
δ34S ore, sulfide
%S host
δ34S host, sulfide
δ13C pdb
δ18O pdb
δ18O smow
87Sr/86Sr
avg
MF356
MF355
MF354
MF349
MF350
MF351

6.70

16.42

MF348

-6.43

17.83

MF353

-3.42

13.87

MF352
MF344
MF347a
MF347
MF346
MF343
MF343
MF342
MF34l
MF339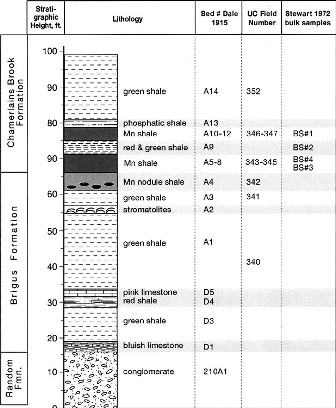 Stratigraphic section at Manuels River [click here to see full size]