Woodie Woodie
For additions or corrections to the data for this deposit please contact webmaster
Location - Australia: WA
Age of protore - 2760 Ma
Age of hydrothermal phase - 1100-955 Ma
Original size - 8.56 million tonnes of Mn
References
Jones, S., McNaughton, N. J., & Grguric, B., 2013, Structural controls and timing of fault-hosted manganese at Woodie Woodie, East Pilbara, Western Australia. Ore Geology Reviews, v. 50, p. 52-82.
Jones, S., 2011, Proterozoic deformation in the east Pilbara Craton and tectonic setting of fault-hosted manganese at the Woodie Woodie mine. Australian Journal of Earth Sciences, v. 58, p. 639-673.
Rothery, E., 2006, Discovery of large manganese deposits at Woodie Woodie, WA, in Neumayer, P., Outcrop to orebody: Innovative geoscience in exploration and mining: Australian Institute of Geoscientists Bulletin, v. 44, p. 50-52.
Ostwald, J., 1993, manganese oxide mineralogy, petrography and genesis, Pilbara Manganese Group, Western Australia. Mineralium Deposita, v. 28, p. 198-209.
major elements - trace elements - rare-earth elements - REE normalized - isotopes
Major Elements, oxide percent

Sample location

Sample no.

%

%

%

%

%

%

%

%

%

%

%

MnO

Fe2O3t

SiO2

Al203

CaO

MgO

K2O

Na2O

TiO2

P205

LOI

Average

Oxide ore

61.08
5.68
12.19
1.65
0.52
1.02
1.55
0.26
0.10
0.04
2.55
Woodie-Woodie; Jones
High grade ore
56.8
4.77
13.14
0.61
0.84
0.85
1.23
0.17
0.09
0.02
Woodie-Woodie; Jones
Carawine dol, regional
0.49
0.86
5.56
0.31
27.83
19.43
0.1
0.05
0.01
0.02
Woodie-Woodie; Jones
Carawine dol, close to mine
4.84
2.19
17
0.27
22.57
16.01
0.15
0.04
0.02
0.02
Woodie-Woodie; Jones
Fortescue Grp shale
0.93
5.79
40.24
7.02
10.72
7.52
2.47
0.05
0.04
0.4
Woodie-Woodie; Jones
Fortescue Grp basalt
0.19
10.38
55.95
12.77
4.55
3.59
3.36
2.51
0.23
1.13
Woodie-Woodie; Ostwald
High grade ore
81.3
0.3
1.72
0.47
0.32
0.2
2.52
0.12
0.06
0.01
1.05
Woodie-Woodie; Ostwald
High grade ore
79.5
2.3
1.3
1.04
0.21
0.13
1.45
0.2
0.06
0.04
1.7
Ant Hill; Ostwald
High grade ore
72.5
7.8
0.05
2.28
0.12
0.37
2.71
0.58
0.11
0.05
3.85
Mt Sydney; Ostwald
High grade ore
72.3
3.3
4.26
0.86
0.14
0.12
2.82
0.14
0.06
0.05
1.31
Balfour Downs; Ostwald
High grade ore
70.2
1.3
5.3
6.59
0.1
0.09
3
0.46
0.09
0.02
3.86
Balfour Downs; Ostwald
High grade ore
66.3
7.9
11.6
5.6
0.61
1.49
0.47
0.04
0.11
0.19
3.72
Ripon Hills; Ostwald
High grade ore
55.0
27.2
1.99
3.33
0.06
0.16
1.08
1
0.19
0.02
3.34
Sunday Hill; Ostwald
Low grade ore
25.5
2.7
63.7
1.3
0.07
7
0.94
0.2
0.15
0.02
1.53
Trace elements, ppm

ppm

ppm

ppm

ppm

ppm

ppm

ppm

ppm

ppm

ppm

ppm

ppm

ppm

ppm

ppm

ppm

ppm

ppm

ppm

As

Ba

Cd

Co

Cr

Cu

Mo

Nb

Ni

Pb

Rb

Sc

Sr

Th

U

V

Y

Zn

Zr

Avg oxide
101
6311
0.65
262
77
694
20.85
0.33
131
426
13.57
552
0.44
3.79
100.54
19.38
462
High grade ore
50.38
6272
0.65
53.29
76.83
677.65
20.85
0.33
47.08
678.75
13.57
797.62
0.44
3.79
100.54
19.38
Carawine dol, regional
2.4
0
0.1
1.62
14.6
5.2
0.27
0.58
5.46
4.11
2.71
11.07
0.29
0.13
5.9
1.68
Carawine dol, close to mine
22.68
537.6
0.36
8.97
16.96
42.74
3.58
0.29
17.86
49.36
1.9
126.72
0.36
0.44
15.32
5.19
Fortescue Grp shale
32.14
179.2
0.39
22.77
70.88
69.58
2.46
7.01
62.76
27.43
56.96
23.39
4.63
2.02
59
18.84
Fortescue Grp basalt
4.15
806.4
0.14
41.22
61.38
79.59
1.36
15.31
70.11
3.77
70.88
262.36
5.74
1.3
153.84
28.21
High grade ore
76
10483
39
100
1530
79
186
338
241
High grade ore
76
19712
71
100
1110
55
186
254
161
High grade ore
76
3853
2045
50
550
1100
186
423
2250
High grade ore
689
11110
39
50
520
39
93
85
80
High grade ore
76
2330
865
80
290
86
186
507
80
High grade ore
76
90
267
90
600
126
186
507
321
High grade ore
76
179
228
100
170
189
186
254
402
Low grade ore
76
3046
212
50
920
39
186
85
161
blank or nr = not reported; bd = below detection
Rare-earth elements, ppm

Sample

La

Ce

Pr

Nd

Sm

Eu

Gd

Tb

Dy 

Ho 

Er 

Tm 

Yb

Lu

avg oxide
16.02
24.90
3.78
15.19
3.10
0.69
2.84
0.45
2.65
0.53
1.39
0.18
1.04
0.15
High grade ore
16.02
24.9
3.78
15.19
3.1
0.69
2.84
0.45
2.65
0.53
1.39
0.18
1.04
0.15
Carawine dol, regional
1.61
3.11
0.35
1.35
0.29
0.07
0.26
0.04
0.23
0.05
0.12
0.03
0.1
0.02
Carawine dol, close to mine
3.97
9.55
1
4.14
0.95
0.59
0.85
0.13
0.77
0.15
0.39
0.06
0.32
0.05
Fortescue Grp shale
19.43
36.58
4.29
16.49
3.37
0.8
3.09
0.51
3.2
0.68
1.86
0.27
1.7
0.25
Fortescue Grp basalt
39.53
78.25
9.15
35.45
6.79
1.86
6.07
0.9
5.59
1.11
3.08
0.43
2.67
0.41
High grade ore
High grade ore
High grade ore
High grade ore
High grade ore
High grade ore
High grade ore
Low grade ore
Rare-earth elements,

normalized to chondritic values of Taylor & McLennan (1992)

Sample

LaN

CeN

PrN

NdN

SmN

EuN

GdN

TbN

YbN

Ce/Ce*

Eu/Eu*

LaN/YbN

avg oxide
43.65
26.02
27.59
21.36
13.42
7.93
9.28
7.76
4.19
0.75
0.71
10.41

0.839

0.601

17.997

High grade ore
43.65
26.02
27.59
21.36
13.42
7.93
9.28
7.76
4.19
0.750
0.711
10.409
Carawine dol, regional
4.39
3.25
2.55
1.90
1.26
0.80
0.85
0.69
0.40
0.971
0.779
10.880
Carawine dol, close to mine
10.82
9.98
7.30
5.82
4.11
6.78
2.78
2.24
1.29
1.123
2.006
8.384
Fortescue Grp shale
52.94
38.22
31.31
23.19
14.59
9.20
10.10
8.79
6.85
0.939
0.758
7.723
Fortescue Grp basalt
107.71
81.77
66.79
49.86
29.39
21.38
19.84
15.52
10.77
0.964
0.885
10.005
High grade ore
High grade ore
High grade ore
High grade ore
High grade ore
High grade ore
High grade ore
Low grade ore
Isotopes

Sample

% Ccarb
% Corg
δ13Ccarb pdb
δ13Ccarb pdb
δ13Corg
δ18Ocarb pdb
δ18Ocarb smow
δ18Ocarb pdb
δ18Ocarb smow
% Stotal
δ34Spy
High grade ore
0.016
0.037
Carawine dol, regional
Carawine dol, close to mine
Fortescue Grp shale
Fortescue Grp basalt
High grade ore
0.010
0.0300
High grade ore
0.018
0.0320
High grade ore
0.018
0.0120
High grade ore
0.014
0.0060
High grade ore
0.018
0.0620
High grade ore
0.024
0.0460
High grade ore
0.018
0.0520
Low grade ore
0.006
0.0540
Stratigraphy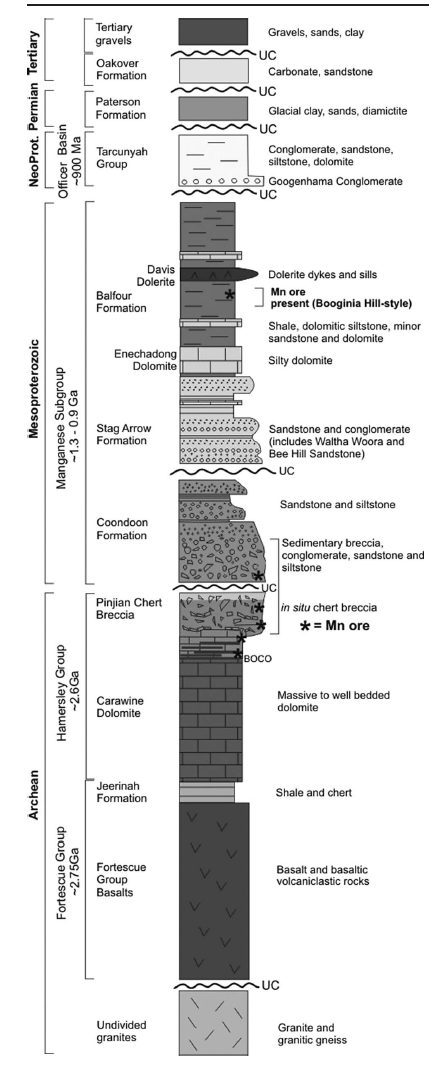 Jones et al 2013